El Café St. Gallen
Our Cafe
—-
The iconic Cafe St. Gallen will make you want to stay and enjoy the pleasant ambiance typical to Switzerland while you indulge yourself in a menu with a range of dishes and pastries prepared just for you. We open from Tuesday to Sunday from 7:00 a.m. to 4:00 p.m. (November Closed)
Our specialty, the flavour
Most of the ingredients are grown or produced naturally at our own garden. We don't use any harmful additives. Our secret recipe is the wellbeing of our clients and the environment. Soup bread and pastries are all made in house to guarantee the quality and originality of our menu.
Let's imagine a cozy ambience with fresh air and we will have a magical place where you can delight yourself and your taste buds.
Our Facilities

 
The iconic Cafe St. Gallen will make you want to stay and enjoy the pleasant ambiance typical to Switzerland while you indulge yourself in a menu with a range of dishes prepared specially for you. We open from Tuesday to Sunday from 7:00 a.m. to 6:00 p.m. (November Closed)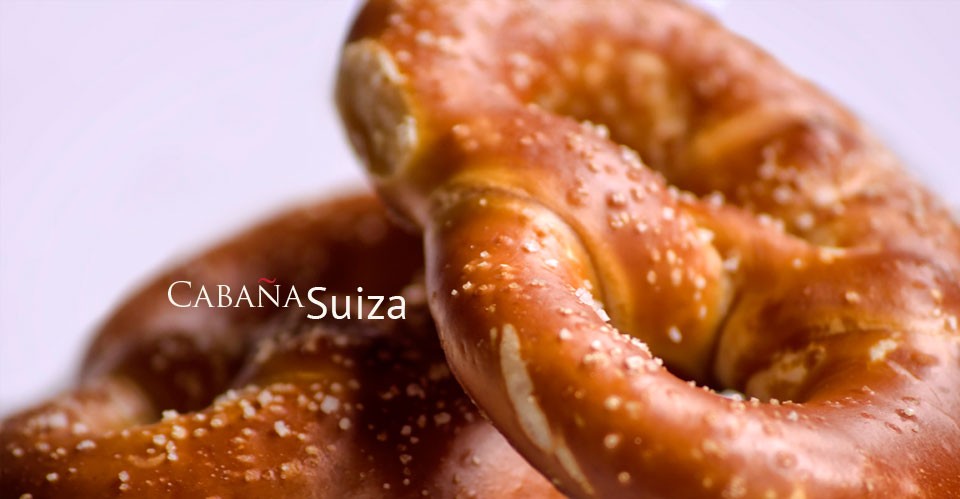 Our Services
As well as our Café St. Gallen we also offer private reception rooms for receptions up to 50 guests.
Bachelorette parties, Baby Showers, Birthday parties or even work meetings.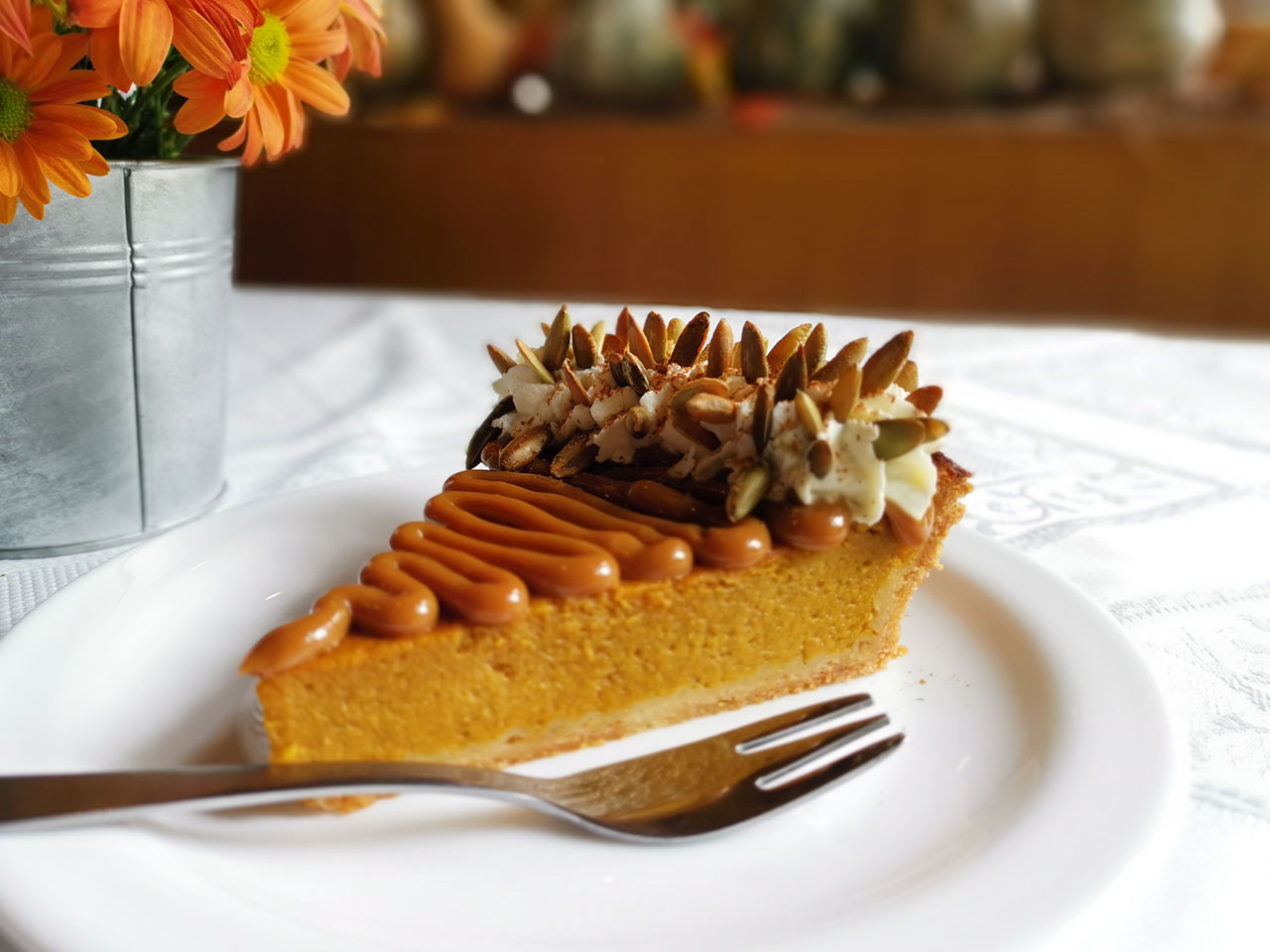 Our Menu
Homemade soups, fresh dishes, european style sandwiches and the famous and original Swiss confectionary. You have to try them!
Events and Receptions
Get your quote
—-
Celebrate with us and have a totally unique experience. Extensive gardens with breathtaking nature. We offer all the necessary infrastructure for you to have a reception you will never forget. Weddings, Birthday parties, Proms or even Work meetings will be a a great success.
Get your quote online now
Get your quote/ Book
Our Reception Spaces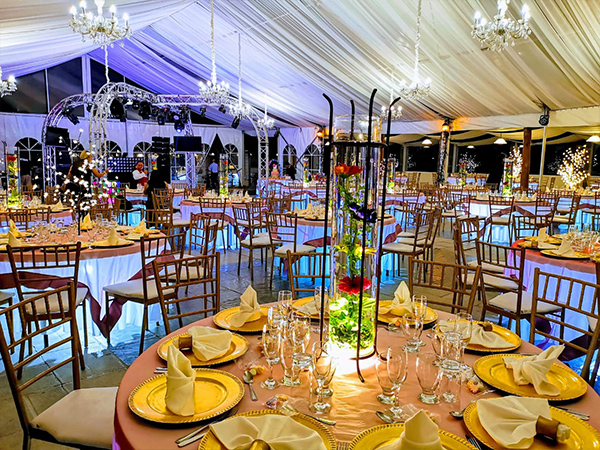 Plaza Helvetia
Designed and built specially for Receptions of 51 up to 450 guests. At Plaza Helvetia your party will be unforgettable. Even though the room is surrounded with an extensive forest of oak trees and wonderful nature, it however keeps the feel and more importantly the commodities of an enclosed room. (roof, tile floor, parking for up to 150 vehicles, an emergency power plant, etc.) The beauty of nature combined with the comfort of an enclosed room. You and your guest will have a tremendous time.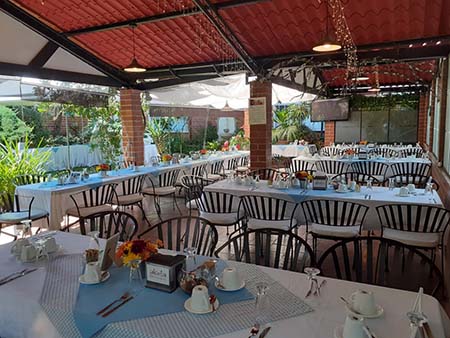 The Cafe St. Gallen Terrace
For receptions up to 50 guests it is the ideal place for any Bachelorette party, Baby Shower, Birthday Party, Work meeting or any other small get together.
Ask for our special Menues.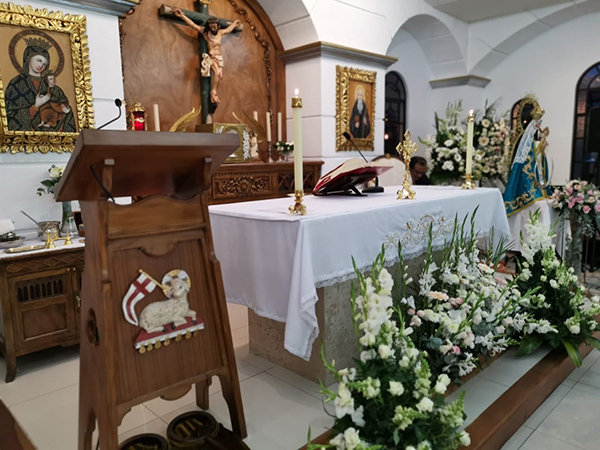 Saint Benedict Chapel
It is now possible to do it all in one place without having to move around. In our Chapel you will be able to celebrate your Wedding or even a Thanksgiving mass for your special Birthdays.
The petite and cozy Chapel will complement your reception in the best way possible.
Get to know our Chapel and appreciate the details that will make your Eucharist the most solemn and beautiful possible.  
Our Hotel
Like at home
—-
Feel at home at our comfortable hotel rooms. Open the blinds and surprise yourself with a gorgeous view of the oak forest and enjoy the fresh air. Escape your daily routine and stay away from the city noise and traffic while still being near the city. Only 15 minutes away from Antigua Guatemala. Cable TV, wireless Wi-Fi, room service and much more.
Get to know our rooms
Our Services
10 No-smoking rooms

Outdoor pool

Room service

Daily cleaning service

Safe

Free Parking and Wi-Fi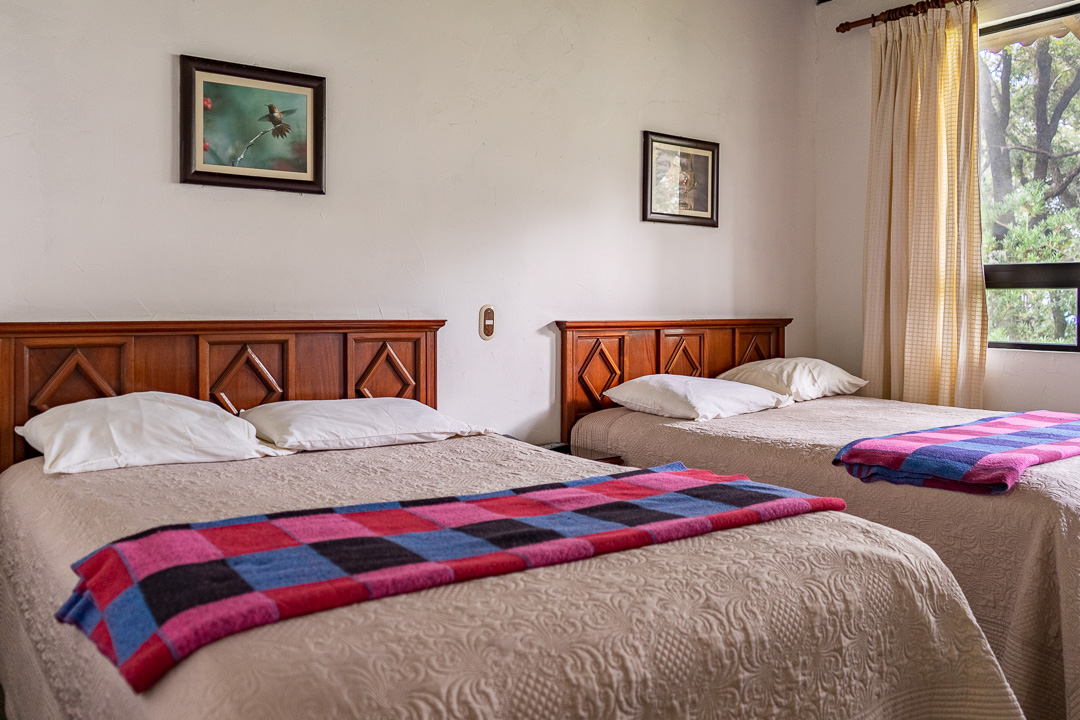 Standard double room
1 double bed

32" Flat screen Cable TV

private Bathroom 

Free Wi-Fi
Standard 2-Bed room
2 double beds

32" Flat screen Cable TV

private Bathroom

Free Wi-Fi
Suite
3 double beds

32" Flat screen Cable TV

private Bathroom

Free Wi-Fi
All rooms have a view of the forest · Cable TV · Safe · Clothing iron · Ironing equipment · Closet · Shower · Hairdryer · Coffee/Tea pot · Mini-fridge
About us
The Cabaña Suiza, 60 years of history
Located1900 meters above the sea level and hidden between the vast mountains between Guatemala City and Antigua Guatemala lies the Cabaña Suiza. With over 60 years of history founded by Swiss immigrants form a small village in Buchs in the canton of St Gallen.
The Cabaña Suiza preserves the traditional and original architectural style of Switzerland while advocating for the environment, planting our very own vegetable garden. You will not only find numerous kinds of fruits and vegetables but also beautiful kinds of exotic flowers and trees while enjoying the perfect Guatemalan climate and the enviable fresh air.
 Come and allow us to introduce you to our little piece of Switzerland in Guatemala!
Welcome ALL
Motor Homes (RV´s)
Since the introduction of Social Media and Internet communications our world is more united than ever. Now one can meet people with the same interests and hobbies. Cabaña Suiza is internationally known as a must-see stop for those families and couples traveling around the world in their RV´s also known as Motor Homes.
Through internet sites like iOverlander.com, we have gotten to know many American and European travelers that passed by and got to know the Cabaña Suiza.
Here they find the same amenities we offer our regular clients; fresh air, mother nature and above anything else relaxation.
May all of you be welcome!
Do you have questions?
Contact us:
(502) 2484-4180 / (502) 2484-4184
Km. 20.8 Carretera a San Lucas Sacatepéquez, Mixco Guatemala, C.A.